How to Prevent Neck Pain While Sitting at Your Computer Desk
How to Prevent Neck Pain While Sitting at Your Computer Desk
Written By Health For Life Chiropractic on September 14, 2020
---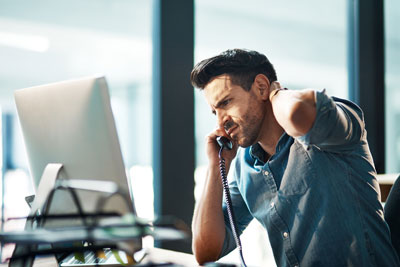 Physically active jobs are becoming less common in America, making up for less than 20 percent of the U.S. workforce. At the same time, sedentary jobs are on the rise, with an 83 percent increase since 1950. Many Americans today now work at a computer desk, but sitting at your desk all day is hard on your body and often results in neck pain, back pain, and more. While a new occupation may not be an option for you, there are some steps that you can take to prevent neck pain while sitting at your computer desk.
What Causes Neck Pain?
Neck pain can be discomforting and even debilitating. Without neck pain treatment, that pain can evolve into other symptoms, such as headaches caused by tension in the muscles in your neck. Neck pain has many common causes, including:
Poor posture
Stress
Injuries
Repetitive motions
Preventing Neck Pain: Three Simple Ways to Reduce Neck Pain at Work
If you are experiencing persistent neck pain, here are three simple ways that you can reduce neck pain at work.
1. Maintain a Good Posture
Practice good posture while sitting at your desk by sitting with your feet flat on the floor, your head in a neutral position, and your back flush against your chair. Avoid crossing your legs or ankles.
2. Adjust Your Chair and Monitor Height
Your monitor should be placed directly in front of you. The center of the screen should be level with your nose. If your monitor is too high or low, you will angle your head to compensate for the height difference, putting a strain on your neck.
3. Place Limits on Screen Time
Do you bend your head forward when looking down at your tablet or phone? Chances are you do. Holding your head forward results in poor posture, and prolonged periods of this position can cause painful strains in your neck muscles.
Finding Neck Pain Treatment in Douglasville
Chiropractic neck pain treatment relieves painful symptoms without the use of medication. Dr. Edmond Hattaway has provided neck pain treatment to the Douglasville community since opening his clinic in 1988. Your first visit will include a consultation, a discussion of your medical history, and recommended treatment options. Imaging will be taken if necessary. In most cases, patients can receive same-day neck pain treatment to help get them on the road to recovery.
Do you need neck pain treatment in Douglasville? Call our office at (770) 489-0187 today to schedule an appointment.

Posted In: Chiropractic Neck Pain Treatment Workplace Ergonomics