Workplace Ergonomics - How to Maintain Optimal Health and Energy
Workplace Ergonomics - How to Maintain Optimal Health and Energy
Written By Health For Life Chiropractic on August 14, 2020
---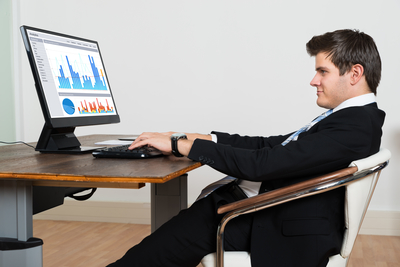 There are several reasons for poor posture, including obesity, pregnancy, improper footwear, stress, and a poor work environment. Regardless of the cause, maintaining a poor posture is detrimental to your health. When you maintain a poor workplace posture, you're putting excess stress on your muscles, spine, and joints. This added stress can cause pain, increase your likelihood of an injury, and more.
Why It's Important to Maintain a Good Work Posture
Improving posture can help you maintain optimal health, energy, and prevent injuries. If you have a poor work posture, you may be experiencing symptoms such as:
Persistent or frequent headaches
Neck and back pain or stiffness
Foot, hip, and knee pain
Jaw pain or TMJ disorders
Fatigue
Shoulder pain
Workplace Ergonomics: Improving Posture With a Few Simple Changes
Improving your work posture begins with being more mindful and making a few changes to your work environment, including:
Adjust Your Chair Height: It's essential to prevent slouching if you sit at a desk for most of the day. Raise or lower your chair height to a position where your feet are flat on the ground, and your knees are level with your hips.
Position Frequently Used Items Nearby: If there are certain items, such as your phone or computer mouse, that you use frequently, make sure they are positioned close by. Excessive reaching and unnecessary movements can result in improper posture and added stress on your body.
Take Breaks: The human body was not meant to sit for hours on end. Break up your workday with small breaks. If you cannot leave your desk, alternate between sitting and standing or take some time to stretch throughout your day.
Get Help Improving Posture in Douglasville
Every year, around 22 million Americans visit a chiropractor for pain relief, muscle strains, work accidents, sports injuries, and more. If you have maintained a poor work posture, chiropractic care can help. Chiropractic care can alleviate painful symptoms caused by poor posture and help you improve your work posture in the future.
Dr. Edmond Hattaway has become a cornerstone of the Douglasville community for his patient-focused approach to treatment. Your first visit will include a physical exam and a review of your medical history, but most patients also receive same-day treatment.
Improving posture can alleviate pain, stiffness, and maximize your optimal health and energy. We can help. Call our office today at (770) 489-0817 to schedule an appointment.

Posted In: Chiropractic Workplace Ergonomics