Non-Invasive Chiropractic Treatment for Disc Pain
Non-Invasive Chiropractic Treatment for Disc Pain
Written By Health For Life Chiropractic on April 16, 2022
---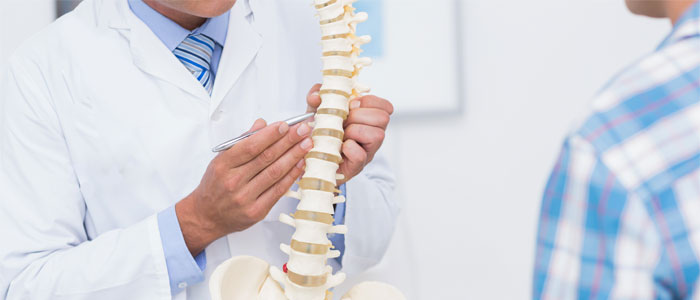 While some people experience a herniated disc without suffering from pain or other symptoms, many exhibit significant pain, as well as numbness or weakness, and trouble walking or standing. Sometimes, disc pain can be a sign of other spine conditions, such as osteoarthritis, degenerative disc disease, arthritis, or osteoporosis.
A chiropractor can do an examination and imaging tests to determine the underlying cause of your disc pain, so you can receive treatment tailored to your needs and condition. At Health For Life Chiropractic, Dr. Hattaway and staff are committed to helping patients live pain-free in Douglasville, GA without the use of prescription medications and invasive treatments.
What Causes Disc Pain?
The most common cause of disc pain is a herniated disc. It's caused by chronic disc degeneration or a sudden accident or injury (like a fall or car accident) that causes the outer shell of the disc to tear or break. The disc's fluid is then released into the spinal canal. A herniated disc can occur anywhere on the spinal cord; however, the most common place is the lower back or the neck.
If your disc pain is accompanied by sciatica, arm or leg pain, and numbness or weakness in the limbs, it is likely you have a herniated disc. You will also notice increased pain during activities or when standing or sitting for prolonged periods, and relief from pain when resting flat on your back or in a reclining position.
If you are suffering from disc pain, it's crucial to visit our chiropractors as soon as possible. Not only do you risk the pain getting worse and affecting your daily life and activities, it's also important to find out exactly what is causing your pain.
How Can a Chiropractor Treat Disc Pain?
Our chiropractors can provide safe, effective relief from disc pain through chiropractic care treatments that are holistic and minimally invasive. Your chiropractor will make every effort to develop a treatment plan that doesn't require surgery or prescription medications. Before deciding on a treatment plan, our chiropractors will take a patient history to determine the severity, length, and type of disc pain you are experiencing. He may also order imaging tests such as x-rays.
Your chiropractic treatment plan will be wholly designed to match your symptoms, lifestyle and needs. We may recommend spinal decompression therapy, during which you will lay on a traction table to stretch out your spine and realign it. This relieves pressure on your discs and nerves. You may also undergo massage therapy, spinal manipulation, and physical therapy.
Visit Health For Life Chiropractic for Disc Pain
Health For Life Chiropractic is located in Douglasville, GA, and has been serving the local community since 1988. Our knowledgeable, personable, and helpful staff's first concern is restoring and maintaining your health. Dr. Edmond Hattaway, D.C., has been practicing for more than three decades and specializes in auto injury treatment and spinal decompression. And since patients who've never been to a chiropractor often feel scared, Dr. Hattaway has gentle treatment options to put you at ease while helping you heal.
If you're ready to seek neck pain treatment with Dr. Hattaway and the knowledgeable staff at Health For Life Chiropractic, call us today at (770) 489-0187 or schedule an appointment online.

Posted In: Chiropractic Sciatica Spinal Decompression Leg Pain Disc Pain Treatment Massage Therapy Herniated Disc Physical Therapy