Natural Whiplash Treatment with Chiropractic
Natural Whiplash Treatment with Chiropractic
Written By Health For Life Chiropractic on November 15, 2021
---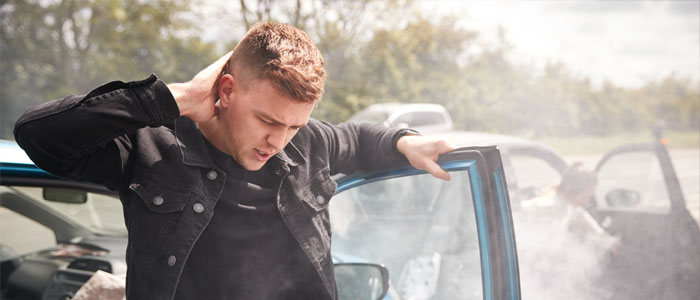 If you have ever had the unfortunate experience of an auto accident, you probably noticed some intense pain that followed. Even minor fender-benders can lead to prolonged pain and damage, called whiplash, to some of your body's most critical structures, including the neck and back.
After an auto accident, it's crucial to put your health first. Visiting Dr. Hattaway at Health For Life Chiropractic in Douglasville is your first step on the road to recovery and a pain-free lifestyle.
What is whiplash?
Whiplash is the term used for an injury or sprain to the neck caused by forceful motion in a back-and-forth pattern. This rapid motion is unnatural for the neck and can easily disrupt delicate structures, including ligaments, discs, nerves and soft tissue in the neck. The most common cause of whiplash is rear-end auto accidents, but it can easily occur after other types of auto accidents.
When left untreated, whiplash can quickly become more severe. It's crucial to seek chiropractic treatment quickly and recognize the warning signs. Symptoms of whiplash may include:
Neck stiffness
Limited range of motion
Headaches
Fatigue
Dizziness
Tinnitus
Blurry vision
If you notice any of these symptoms persisting, don't hesitate to seek chiropractic care. During your appointment with Dr. Hattaway, you will receive a thorough evaluation in order to develop an accurate diagnosis, treatment plan, and lifestyle recommendations.
Can chiropractic care treat whiplash?
Chiropractic care has emerged as one of the preeminent treatment options for whiplash. Many patients prefer to seek chiropractic treatment because it is natural, non-invasive, and drug-free. By definition, chiropractic care relies on the body's nervous system to provide guidance.
As an internal injury, whiplash can be challenging to diagnose. Chiropractic treatment encompasses full evaluation of your neck and spine structure, and with more than 30 years of experience, Dr. Hattaway knows how to identify whiplash. If you are suffering from whiplash, your neck and spine are likely misaligned. Chiropractic adjustments are a crucial part of treatment, and ensure your body is on track to heal with proper alignment.
Many patients favor chiropractic care for being a completely natural treatment choice. Unlike over-the-counter pain medication, chiropractic care seeks to address the root of the pain, instead of simply masking the symptoms. By targeting the cause of pain, chiropractic care can prevent minor whiplash from developing into severe chronic pain.
Get On the Road to Recovery
Put your health first after an auto accident and prevent long-term damage to your neck and spine. Schedule an appointment with Dr. Hattaway in Douglasville for expert care to help you navigate this stressful time.

Posted In: Auto Injury Treatment Chiropractic Whiplash Treatment