Common Injury Symptoms After a Car Accident
Common Injury Symptoms After a Car Accident
Written By Health For Life Chiropractic on March 20, 2020
---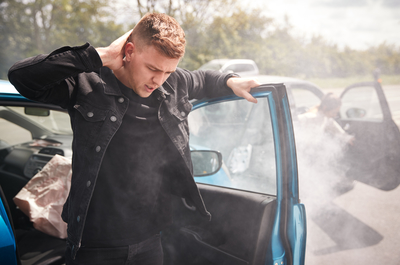 Car accidents are terrifying and come in all forms. Even the most insignificant bumps can lead to severe and long-lasting injuries. That's why seeking auto injury treatment is vital to maintaining your health and wellbeing even after the smallest of fender benders.
Why You Need to Seek Auto Injury Treatment ASAP
With approximately three million Americans injured each year in car accidents, it's important to remind individuals that they should seek auto injury treatment right after an accident, no matter how small it may have been. Why – because many of the most common auto injuries that medical professionals see do not present symptoms right away. This is because the body releases a rush of adrenaline to help put your body into survival mode and get you out of harm's way.
Since the adrenaline helps the body get into survival mode, you'll often notice that you don't feel pain immediately following an accident. However, that doesn't mean you've not been hurt. Several injuries often don't start showing symptoms until hours or even days after the accident, including:
Whiplash
Head injuries, such as concussions
Internal bleeding/Blood clots
Spinal Injuries
Neck/Back/Shoulder injuries
Muscle Sprains/Strains
Injury Symptoms to Watch for After an Accident
If you or your loved one has recently been in an accident, there are several injury symptoms that you should watch for. If you experience any of the following symptoms, seek car accident treatment immediately:
Headaches
Bruising
Difficulty breathing
Loss of balance
Back/Neck pain
Unexplained mood swings
Light/Sound sensitivity
Dizziness/Disorientation
These symptoms are relatively common and could be attributed to a wide variety of issues. However, if you've recently experienced even the most minor of fender benders, you may be suffering from any number of possible injuries, many of which don't show physical signs. Pain is usually the first sign of something wrong in these cases and seeking out auto injury treatment is crucial.
Car Accident Treatments Available with Health for Life Chiropractic
Auto accidents are scary, and while the body may not realize it's been hurt, it is vital to seek out a car accident treatment as soon as you can. With over 30 years in practice in Douglasville, Dr. Hattaway will help releive your pain! Don't wait for the pain to surface and get the better of you.
Contact the team at Health for Life Chiropractic and schedule a consultation today.

Posted In: Auto Injury Treatment Chiropractic Whiplash Treatment